The Future Is Scary Pt 5
The farmers are coming out in their droves to protest as well because for years they have been able to rely on the steady flow of immigrant's legal or illegal coming in every season to help with the harvesting.  Their views on what their President has decided can only harm their own abilities to bring their produce to market on time.
Many are now rushing out to see what is available for them to use instead of human hands.  And with that need, the demand is created.  Robots will become more and more what you will see out in the fields and pastures from now on.
And with their President touting that he is creating jobs, I wonder myself at this statement when even I who has always used a secretarial approach to work can see that machines will get the jobs, not the people.  I wonder when he will wake up to this fact himself.
Farmers need to survive.  The naturally grown vegetables and fruit are a necessary part of our food chain. They need to be planted, tended and harvested at the right times of the year.  If human hands are not going to be as easily available, then what other alternative do they have but to look to a mechanical type of aide?
I have looked further to see what type of money can one earn in the fields and pastures of the USA?  Without having to look too far, I can
see that it is easy to earn $200 a day given a good day of picking by experienced workers of many years.  That's a lot of money when you come from a country that offers no work or very little compensation for the same work.
And how will our own islanders here in our Pacific basin cope?  Where will they get what they need to improve their own lives back at home should our farmers here in New Zealand opt to bring in robots to carry out the work that previous to now has been done by human hands?
The fallout into the community will naturally follow of course.
Thanks for reading my blog.
Please comment below and share my link.
Debbie Nicholson
Click here for your Audio link to this blog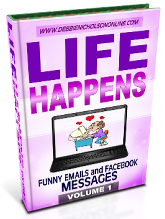 Life Happens Volume 1 A Collection of Funny Emails and Facebook Messages Dating From The 1980s To 2012
Our Favourite Links
Robots In The Fields
Threshing Wheat
Journals
Amis de Chat Book 2