We Are Under Siege Pt 1
As I write this, it is hard to believe that our own Christmas Tree is under siege – a threat so crucial that we as a nation could lose all of our beautiful native plants and trees to a wonder of nature that spends its life disfiguring and eventually killing all that which it touches.
How has this threat come about you might ask?
They say that it originated in the northern regions of South America, travelled to Queensland in 2010 and now in 2017 has floated its way to the Kermadec Island group in particular Raoul Island which is a mere 1000kms from our precious shores – namely Cape Reinga.  You might be thinking that a distance of 1000kms seems a very long way away, however, with winds and tides constantly being affected by our changing climates, and the lure of similar living conditions in the thoughts and energy of the plants involved, then 1 million miles would still be considered too close.
Once it reaches our shores, then alas for us, our Christmas tree known also as the Pohutukawa will be subjected to the harsh and cruel ravaging of this raging fungus that seeks destruction wherever it lands.  As if the possums are not enough – a pest that has been here since 1837 – inflicting mayhem, devastation and destruction on the beautiful native forests that grace our country as well as spreading disease amongst our cattle industry.  The current estimate of possums in this country are at a staggering 70 million in number and increasing every day.  Did you know that a possum can live until it is 11 years old? The stats are so frightening.  The more I read up about them the more I cringe every time I see a single dead one as we pass on the roads when travelling around our country.
Thanks for reading my blog.
Please comment below and share my link.
Debbie Nicholson
Click here for your Audio link to this blog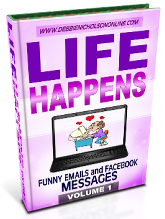 Life Happens Volume 1 A Collection of Funny Emails and Facebook Messages Dating From The 1980s To 2012
Our Favourite Links
Red Pohutukawa
Fungal Plant Disease
Raoul Island
Possums
Brushtail Possum
Opposum Reproductive Cycle
Myrtle family
Myrtle Rust
Weed Control 
New Zealand Christmas Tree
Yellow Pohutukawa 
Birds of New Zealand History 
Dendrology
Nursery Catalogues
Population of New Zealand
Unwanted Pests
Amis de Chat Book 2